| | |
| --- | --- |
| Lake Miramar | |
---
Location: Scripps Ranch.
Route: Road around the man-made lake.
Distance: 8 miles out-and-back.
Terrain: Mostly flat, short gradual hills. Very curvy.
Pavement: Mostly smooth 2-lane road (4 miles) and bike path (1 mile).
Traffic: Moderate bicycle and pedestrian, especially on weekends. No vehicluar traffic allowed.
Last Updated: Mon Sep 22 20:18:18 EDT 2003
Description:
This centrally-located park is the hangout for San Diego speedskaters and members of SDSE. It is an ideal place to train since the wide, 2-lane road allows you to concentrate on your form and technique without worrying about traffic. The numerous curves test your crossover skills. Most pedestrians are used to cyclists and skaters zipping by.
Restrooms and water fountains are located in the main parking lot.
Directions:
From I-15 (do not take the express lanes) exit at Mira Mesa Blvd. and go east. Turn right when the road ends at Scripps Ranch Blvd. Turn left at the second light onto Scripps Lake Dr. The park entrance is ahead on the left up the hill past the library.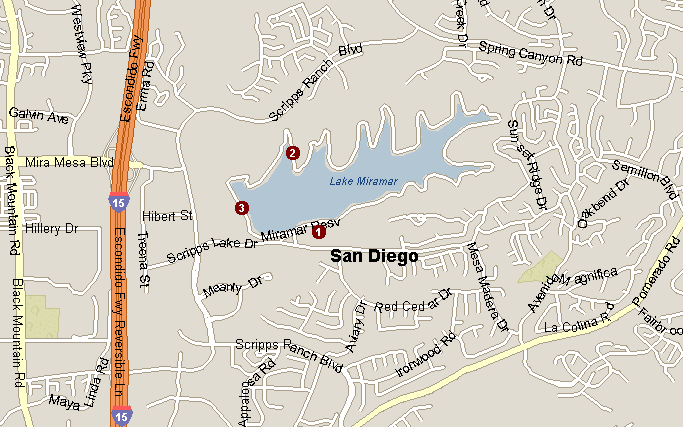 Main parking lot with restrooms and water fountains. Speedskaters usually hang out on the picnic benches by the concession stand between laps. From here head east to access the park road.


2-lane road ends here. Turn around and return the way you came.


The dam which overlooks Mira Mesa. Access to this section of the path is closed.


---
Copyright &copy 1998-2003 - San Diego Street Elite