| | |
| --- | --- |
| Lake Murray | |
---
Location: La Mesa.
Route: Bike path, but not a complete loop.
Distance: 4 miles out-and-back.
Terrain: Mostly flat. Very curvy.
Pavement: Mostly smooth bike path.
Traffic: Heavy pedestrian, especially on weekends.
Last Updated: Sun Nov 4 18:34:39 PST 2001
Description:
Lake Murray is similar to Lake Miramar, but its path does not form a complete loop. Because of its heavy elderly and weekend warrior crowd, it is not a good place for cycling or speedskate training. However, it is a great place for recreational skating convenient to East County residents.
There are restrooms and water fountains by the main parking lots.
Directions:
From I-8 exit at Lake Murray Blvd. and go north. Up the hill turn left at the traffic light intersection for Lake Murrary Park. The path begins at the innermost parking lot.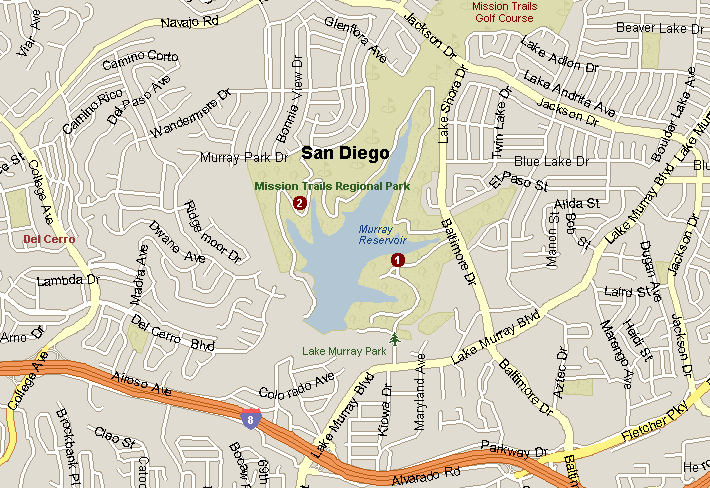 The path begins here. Caution: The main parking lot is very rough with gravel. There are restrooms and water fountains here.


The path ends here at the fence. You may return the way you came.


---
Copyright &copy 1998-2003 - San Diego Street Elite