| | |
| --- | --- |
| Coronado Island | |
---
Location: Coronado Island.
Route: Loop course around the island, mostly residential.
Distance: 3 miles.
Terrain: Mostly flat.
Pavement: Mostly smooth on the wide roads.
Traffic: Light to moderate vehicular. Heavy pedestrian on the paths on weekend afternoons.
Last Updated: Sun Jul 13 19:42:26 PDT 2003
Description:
This is a nice loop tour of the residential neighborhoods of Coronado Island. On it you'll see fantastic views of the San Diego Bay and the downtown skyline, pass underneath the Coronado Bridge, and skate by the Hotel del Coronado.
Restrooms and water fountains are available in the shopping center at the starting point.
Directions:
From I-5 take the Coronado Bridge (SR-75) west. There is no longer a toll for crossing the bridge. After what used to be the toll booth, the divided road curves to the right and then to the left. Just after it curves to the left, turn right onto B Avenue. Take B to where it ends on 1st Street and turn right. You will see the Ferry Landing shopping center, a Burger King, and the parking lot on the left.
There are many other places to start from on Coronado Island.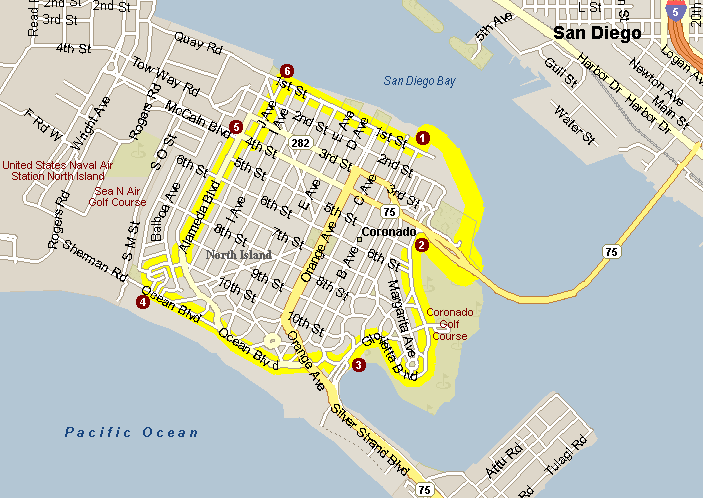 The shopping center parking lot by the Ferry Landing. There are restrooms and water fountains here. It is possible take a ferry across the bay to the Broadway Pier, just north of Seaport Village, point 3 on the San Diego Bay skate. To tour Coronado Island, begin on the bike path that starts to the east along the bay.


The bike path ends here. Continue south on Glorietta Blvd.


Glorietta Blvd. becomes Pomona Ave. by the tennis courts and comes to a 5-way stop. This is the same place as point 1 of the Silver Strand bike path, which starts on your left. To continue on the loop of Coronado Island, fork right onto Ynez Pl. and head up the short hill. Turn left onto Adella Ave. Cross Orange Ave., the main drag of the island. The road name will change to Ocean Blvd.


The west half of Coronado Island is a naval base. Turn right onto Ocean Dr., just before a green park. Immediately turn left onto Alder St. Alder will jog to the right at Cabrillo Ave. and come to a stop sign with Alameda Blvd. Turn left onto Alameda.


At the 3-way stop turn right onto 4th Street (SR-282). Caution: Heavy traffic. Immediately turn left onto J Avenue. Caution: Short downhill to a stop sign with 3rd Street (SR-282 again). Cross traffic does not stop.


Turn right onto 1st Street and take it back to the starting point.


---
Copyright © 1998-2008 - San Diego Street Elite