| | |
| --- | --- |
| Silver Strand | |
---
Location: Coronado Island to Imperial Beach.
Route: Out-and-back bike path along the coast parallel to Silver Strand Blvd. (SR-75).
Distance: 11 miles one-way, 22 miles round-trip.
Terrain: Totally flat. Very straight.
Pavement: Mostly smooth 6-foot wide bike path.
Traffic: Light bicycle and pedestrian. Few intersections and cross-streets.
Last Updated: April 14, 2008
Description:
The official name for this recreational trail is the Bayshore Bikeway. It was a rails-to-trails project and is the best to practice top-end speed since it is totally flat and almost totally straight.
Restrooms and water fountains are available in the Burger King shopping center on Coronado Island if you start there, at Glorietta Bay Park, and the Silver Strand State Beach parking lot. No public facilities are available in Imperial Beach.
Directions:
From I-5 take the Coronado Bridge (SR-75) west. After what used to be the toll booth, the divided road curves to the right and then to the left. Just after it curves to the left, turn left at the next light onto Orange Avenue. Take Orange to the next light and turn left onto 4th Street (SR-75 again). Rather than crossing back on the bridge, turn right onto Glorietta Ave. just before the toll booth. Follow Glorietta Ave. until you reach a 5-way intersection. You may parallel park here or turn left onto the marina access road and park slight further down the road. A sign indicating the start of the Bayshore Bikeway will be on your left.


Alternatively, you can start from the Burger King parking lot by the Ferry Landing as described in the

Coronado Island skate.

That is where SDSE meets for its regular skate.


To start at the southern end of the bike path, take I-5, exit at Palm Ave. (SR-75), and go west. After entering Imperial Beach, turn right onto 13th Street. The small parking lot is straight ahead at the end of the road. A sign indicating the start of the Bayshore Bikeway will be straight ahead.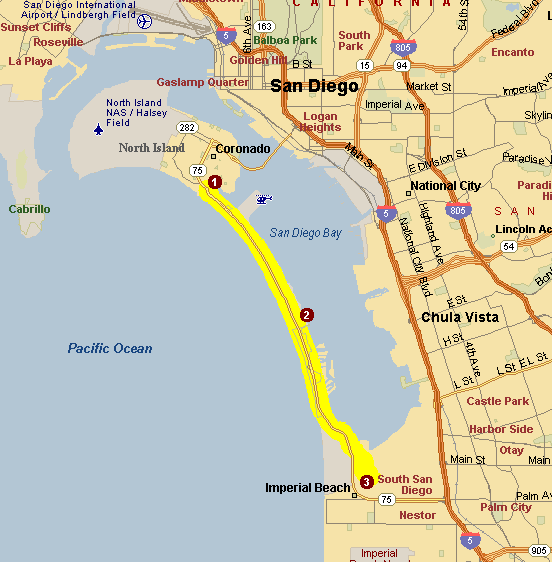 The starting point at the 5-way intersection of streets by the tennis courts. Same place as point 3 on the Coronado Island skate.


Caution: Blind intersections. Please slow down or stop for the few street crossings along the main portion of the path.


The path ends here. You may return the way you came.


---
Copyright © 1998-2008 - San Diego Street Elite Last updated 4-14-08 CY