| | |
| --- | --- |
| UCSD Campus | |
---
Location: La Jolla, UTC.
Route: Roads and pedestrian paths across the university's campus.
Distance: 3-mile outer campus loop.
Terrain: Moderately hilly.
Pavement: Mostly smooth roads and pedestrian paths. Road-side bike lanes, where present, are narrow.
Traffic: Heavy vehicular and pedestrian on weekdays. Light on weekends, except during special events.
Last Updated: Tue Feb 15 22:19:05 PST 2005
Description:
The outer loop road, marked by signs, is a nice skate only when traffic is light, early in the morning or on the weekends. Bike lanes, where marked, are very narrow. There are numerous stop signs and crosswalks. However, the numerous pedestrian paths make it a fun place for recreational skating. Moderately hilly.
Restrooms and water fountains are available on campus.
Many campus police officers will ask you to discontinue skating if they see you on the road, especially if there is traffic.
UPDATE: Tue Feb 15 22:19:05 PST 2005
The construction on Voigt Dr. through Warren College is almost done, but there is still heavy construction traffic through the area. This is the section between RIMAC and the Canyonview recreation center. Please use caution.
Directions:
From I-5 exit at Genesee Ave. and go west. After ascending a huge hill, turn left onto N. Torrey Pines Rd. Turn left onto Hopkins into UCSD at the first light. Parking on campus is regulated between 7am and 7pm on weekdays, but some lots require permits 24/7. Be sure to check the signs where you park.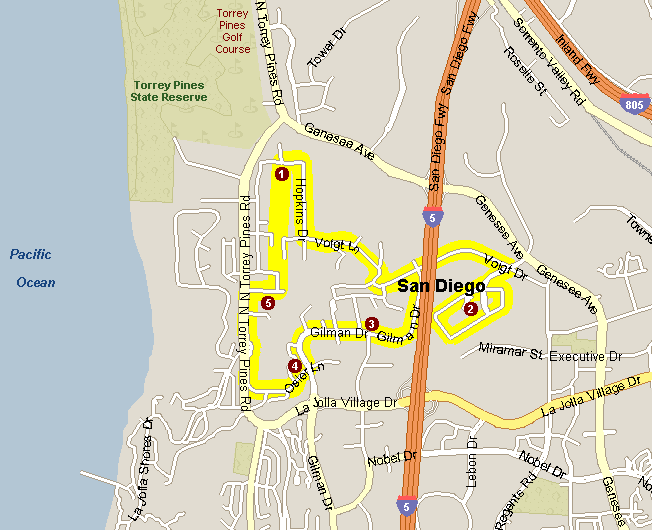 This information booth sits at the former north entrance to the campus. There is a campus map and drinking fountain here. Taking the bike path north to the intersection of N. Torrey Pines Rd. and Genesee Ave. will lead you to the PCH skate up the coast.


You can take Voigt Dr. over I-5 to skate this additional loop of the Medical Campus, which is reasonably lit at night.


Ironically, at this central area of campus there are no bike lanes.


Caution: Downhill to a 4-way stop. Turn right onto Scholars Dr. to continue the campus loop. Proceeding straight down Gilman Dr. will lead you to the Gilman bike path connector to Pacific Beach.


After Scholars Dr. turns right sharply onto Muir Lane and heads up a short hill, you will come to a 3-way stop. Turn left onto Muir College Dr. At the next stop sign the road will turn sharply left. Instead, head straight onto the wide pedestrian path back to the information booth.


---
Copyright &copy 1998-2005 - San Diego Street Elite